Minding the Score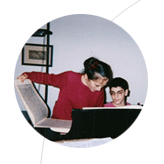 Miss Wolff's lifetime of concertizing and teaching is culminated in her lecture-recitals, entitled Minding the Score. She has given these presentations on college campuses and performing arts series, as well as for outreach and community service organizations, including rehabilitation and treatment facilities, hospitals, prisons and senior centers. For each group she is addressing, Miss Wolff adapts her talks and repertoire to fit its specific needs. Her lucid presentations, coupled with her vibrant personality and a deep enthusiasm for music, continue to make these programs both highly sought after and eminently successful.

In a rave review of her debut there, the London Times noted: "Her performances are very humanly eloquent, affirming Miss Wolff's true gift of communication."

Minding the Score extends that gift.
Examples of MINDING THE SCORE Presentations
(Please click on the links below to learn more)
Scholarly Topics
Beethoven's Trills - A Musical Audiogram
Brahms Evolving Use of Three
For Pianists
Key Characteristics - Rachmaninoff's Piano Works as Witness
Beethoven, Sonata Opus 106 - Adagio sostenuto
The Liszt Sonata - A Faustian Scenario
Independence of Fingers and Beyond
Broader Explorations
Beethoven - The two Fantasy Sonatas, Opus 27
Rachmaninoff - Homage to Schubert
Schumann - Kinderszenen and Kreisleriana:
The Growing Up of Florestan and Eusebius

Multi-media: Seymour Bernstein's New Pictures at an Exhibition