Events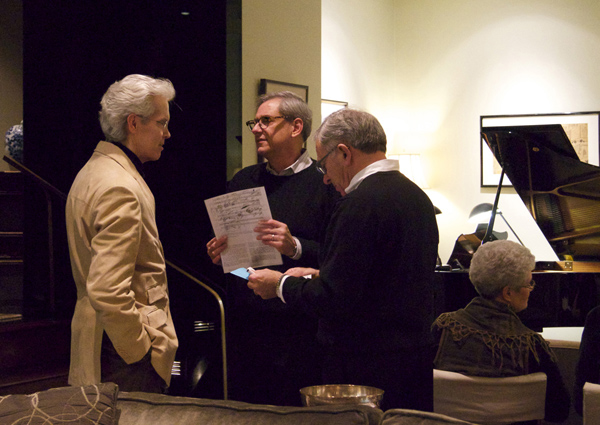 ATM events are selected concerts held in private homes. The first recital was held in St. Paul in October of 2005. Since then we have performed in Tucson, Los Angeles, Denver, Minneapolis and Washington, DC.
The all-important format is now carved in stone: each concert includes a work by a local composer. At the following concert in another urban setting, this same work is included along with a selected work by that city's resident composer. The round-robin concept gives every chosen composer double exposure. It continues to be a joy to unearth and learn the repertoire, play the new works in two settings, and of course, simply get to know who is "out there"—who is writing for piano, who needs an audience locally, and who wants to enlarge his career outside his environs. Most emerging composers, I have found, seek just that.

Past Events
St. Paul - David Evan Thomas
Januaries
In a letter some years ago, Jane Van Dyk wrote to me of the winter doldrums: "My mother always called it the 'januaries' and tried to think of something fun to do." Various impressions appear in the fantasy I call Januaries: alphorns I once heard on Lake Louise; bugling elk in Yellowstone, a solitary whistler, gusts of wind and crackling ice. Januaries was written for Jane's January birthday in 1993. It was premiered by Elizabeth Wolff in March, 2005.
Tucson - Daniel Asia
Why (?) Jacob
Why (?) Jacob in its original version is for chorus and piano. The adaptation for piano alone uses very few new materials; only a few measures at various points of transition and at the conclusion are added. The composition is an elegy, written in memoriam for a childhood friend, killed in the October 1973 Arab-Israeli War. Its mood is clearly nostalgic in its effortless alternation between a hazy chromaticism of star-like images, and a simple statement of a folk-like tune.
Los Angeles - Peter Knell
Snapshots
Snapshots is an adventure in exploring a form that is built of small movements, each of which captures a single musical idea. "Black & White" snapshots explore the relationship between the black keys and white keys of the piano, while "Monochrome" snapshots explore a single set of keys (black or white). Snapshots serves as a genre in much the same way that Songs without Words functioned for Mendelssohn. The intention is to add to this body of work throughout my creative life.
Denver - Chris Malloy
Cold Light
Cold Light is written for piano and pre-recorded sounds. The title is extracted from the phrase, "in the cold light of day," referring to any objective assessment of decision-making, even at times when that assessment may be disquieting. In October 2004, while composing Cold Light, The Lancet reported that an estimated 100,000 Iraqis had lost their lives as a result of the war at that time. The majority of those killed had been civilians...this work is dedicated to their memory.
(The electronic sounds of Cold Light were derived from recorded samples of a Steinway piano at the University of Denver.)
Washington, DC - Haskell Small
Lullaby of War
My composition Lullaby of War is both an expression of outrage at our perpetual rationalizations for making war and an offering of compassion for its victims. It is comprised of settings of six war poems and a prayer theme which interconnects the poems as well as opens and closes the work. For Liz Wolff's ATM performances of this work, we have extracted the first section, based on Stephen Crane's War is Kind, which sets the tone of the whole piece with its alternation of sardonic lines like "Make plain to them the excellence of killing" with the quiet irony of the poem's opening statement, "Do not weep, maiden, for war is kind".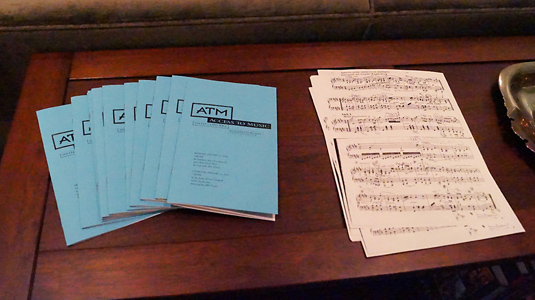 Minneapolis - Carol Barnett
Syncopated Lady
Syncopated Lady was commissioned by Claire Givens and her sisters as a surprise birthday present for their mother, an intrepid piano player. Mary Givens' favorite thing to play was "Bumblebee Boogie" but she also liked Bach, Gershwin, Bolcom, Shostakovich, and someone named Frankie Carl. Syncopated Lady contains bits of all of these composers mixed together with fragments of "Happy Birthday"; as a special treat, it ends with two pages of boogie.
Coming Events
If you'd like to host or attend the next ATM concert, please contact Liz.